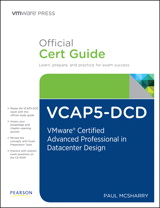 The Official VCAP5-DCD Cert Guide
Ce guide couvre complètement tous les objectifs du nouvel examen, pour vous aider à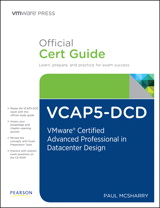 améliorer vos compétences dans la conception et l'intégration des environnements multi-sites, grande entreprise virtualisée.
Cet guide officiel sera votre meilleur compagnon pour réviser en vu de passer votre examen VCAP5-DCD.
Détails de l'examen:
Type(s) of questions: Multiple-Choice, Drag & Drop, In-depth design questions using a design tool
How to register: Once approved by VMWare.com/education, you can register for the exam 

at PearsonVue.
Exam Objectives
Section 1—Create a vSphere Conceptual Design
1.1 Gather and analyze business requirements
1.2 Gather and analyze application requirements
1.3 Determine Risks, Constraints, and Assumptions
Section 2—Create a vSphere Logical Design from an Existing Conceptual Design
2.1 Map Business Requirements to the Logical Design
2.2 Map Service Dependencies
2.3 Build Availability Requirements into the Logical Design
2.4 Build Manageability Requirements into the Logical Design
2.5 Build Performance Requirements into the Logical Design
2.6 Build Recoverability Requirements into the Logical Design
2.7 Build Security Requirements into the Logical Design
Section 3—Create a vSphere Physical Design from an Existing Logical Design
3.1 Transition from a Logical Design to a vSphere 5 Physical Design
3.2 Create a vSphere 5 Physical Network Design from an Existing Logical Design
3.3 Create a vSphere 5 Physical Storage Design from an Existing Logical Design
3.4 Determine Appropriate Compute Resources for a vSphere 5 Physical Design
3.5 Determine Virtual Machine Configuration for a vSphere 5 Physical Design
3.6 Determine Datacenter Management Options for a vSphere 5 Physical Design
Section 4—Implementation Planning
4.1 Create an Execute a Validation Plan
4.2 Create an Implementation Plan
4.3 Create an Installation Guide