VMware EVO RAIL
C'est annoncé, lors du VMworld 2014 à SF (US) VMware vient de lancer son offre Hyper-Convergée VMware EVO RAIL , suite du projet Marvin, puis du projet Mystic et enfin EVO RAIL. Cette appliance d'infrastructure hyper-convergée repose sur du VSAN, vSphere, et bien entendu pour la partie hardware avec des partenaires comme Dell, EMC, Fujitsu, Inspur, Net One Systems Co. et Supermicro, elle s'inscrit dans la stratégie du SDDC (Software-Defined Data Center).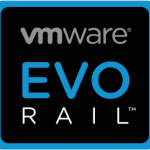 L'appliance fera 2 U pour 4 nœuds, chaque nœud aura une configuration minimum de type :
Two Intel E5-2620 v2 six-core CPUs
192GB of memory
One SLC SATADOM or SAS HDD as the ESXi™ boot device
Three SAS 10K RPM 1.2TB HDD for the VMware Virtual SAN™ datastore
One 400GB MLC enterprise-grade SSD for read/write cache
One Virtual SAN-certified pass-through disk controller
Two 10GbE NIC ports (configured for either 10GBase-T or SFP+ connections)
One 1GbE IPMI port for remote (out-of-band) management
En attendant de se rendre au VMworld à Barcelone et de gratter quelques informations supplémentaires, je vous invite à lire l'excellent blog de Duncan Epping Yellow-Bricks.
To be continued….